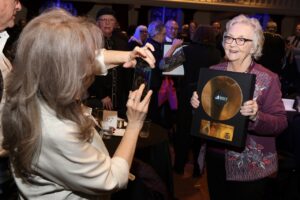 Margie Rosenkranz of The Eighth Step photographs Wanda holding the 'Golden Record' Eddies Award, as she's being photographed as well.
Who would ever have thought that I would be part of an actual Hall of Fame?
I mean, I'm a regular visitor to the Baseball Hall of Fame in Cooperstown, New York. I go to "visit" my favorite longtime baseball players, Harmon Killebrew, Kirby Puckett, Carl Yastrzemski, Ted Williams, Jim Rice, Pedro Martinez, and, the latest of my favorite inductees, David Ortiz. But trying to consider myself as someone who reaches that caliber, even in the realm of music? Fat chance.
However, on Monday, March 27, 2023, I joined an extraordinary list of people from the music world–many of whom are internationally famous–in being inducted into the Thomas Edison Music Hall of Fame, also called "The Eddies," at Universal Preservation Hall in Saratoga Springs, New York. This is part of the Proctors Collaborative, which encompasses a number of entertainment venues in New York's Capital District.
As each person took to the stage following a video about his or her life, I kept asking myself, "What am I doing here?" We're talking about guitar virtuoso Mike Campese, whose legendary exploits on the instrument have not only entertained the Los Angeles and Las Vegas scenes, but also have taught would-be guitar players around the world. Felicia Collins, who bought her first guitar from an Albany pawn shop and then played guitar and sang in the Paul Schaeffer Band on the Tonight Show with David Letterman for 22 years for the show's duration. John Tichy and the late George Frayne, who began the unique and eccentric rock group, Commander Cody and his Lost Planet Airmen. Martin Benjamin, photographer of musicians far and wide, including Bob Dylan, The Rolling Stones, Neil Young, and so many more, and photography teacher emeritus at Union College. Sister Mary Anne Nelson, who started the music program at Albany's College of St. Rose, including music production and teaching licensing issues to students. Country music legend Smokey Greene, who's traveled the world preaching the gospel of country to countless fans.
Then there was this lowly folk music DJ whose claim to fame is a nearly 41-year-old, two-hour-long, local music program on WAMC, the National Public Radio affiliate, and four years at a community station in Worcester, Massachusetts, prior to that. Just how does that stack up against all those accomplishments?
The people behind this award must have thought it does, because there I was, on that stage, with a huge headshot on the screen, talking about how I became involved in the kind of music I play, thanking my family and all those involved in making this show a success. I wish I had had time to thank the people who have encouraged my writing, my book publishing, my photography, my volunteer activities.
My radio friend Susan Arbetter always used the Yiddish word "verklempt" when describing a situation like this. As far as I can tell, it means being overwhelmed and speechless during a time like this. Holding an award that looks like a gold record left me verklempt, indeed. If it weren't for the community at large, which I thanked in my speech, I wouldn't have been on that stage.
As I said in the beginning of the speech, if you give a DJ a microphone, you never know what he or she will say. So if you give a writer a blog, the same applies. I lift my "gold record" Eddies Award to you all. That's the gratitude I have today.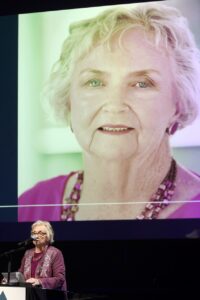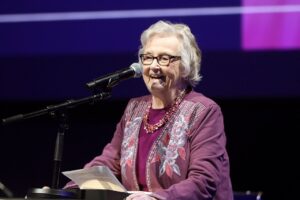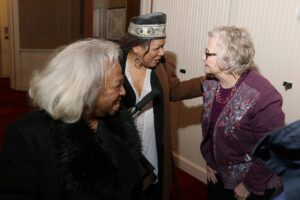 Caption: Felicia Collins and Wanda after the ceremony.