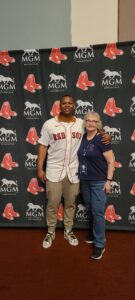 Today I got up early (well, early for me) and drove the 100 miles it takes to get to the MGM Grand Casino to attend Red Sox Winter Weekend. This is an event they began in 2015 (n.b.: I have attended all of them–none took place in 2021 and 2022 due to the pandemic).
I met up with my son, grandson, and granddaughter for the event. We had a good time, hanging out with one another. They live in New Hampshire, which isn't all that far away, but we still don't get enough time together. Baseball is a common denominator we share. My grandson, Liam, is 13, and Lorene just turned 10. She's our only granddaughter; the other five grandchildren are boys.
Winter Weekend consists of autograph sessions, photo sessions, and various panel discussions, as well as the chance to hang out with other Red Sox fans from all over. Most are from New England, of course, because, well, they're RED SOX fans. I live in upstate New York, which is a straight shot to Boston, but, since I grew up about fifteen miles south of Boston and have been a Red Sox fan since 1956, I qualify, even though I lived in the dreaded Yankee country.
Here's how it works: People select a time for an autograph/photo session. You don't know who will be in your room until it's revealed to you. One Red Sox player provides autographs, the other one poses for photos with the people in line. You can only get one item autographed and one photo taken. The Red Sox provide a professional photographer to take photos, but someone's also there to use your cell phone and take a picture with that as well. The Red Sox send you a link to the professional photo in a few days so you can download it.
In my sessions, I had a photo with catcher Connor Wong and third base superstar Rafael Devers (see photo, above). Autographs came from pitcher Chris Sale and Red Sox alumni pitcher Craig Breslow, who was on the 2013 World Series championship team (he works in the front office now for the Chicago Cubs). My son and grandchildren met new first baseman Triston Casas, whom my son described as "genuinely nice and outgoing" toward the fans.
It seemed to me that there were far fewer attendees this year. Could it be that fans are upset with the team for letting its best player, Xander Bogaerts, leave as a free agent? Could it be that fans still have a bad taste in their mouths for the fact that the Red Sox traded Mookie Betts in 2019? The answer to that may lie in what happened last night at the annual Red Sox town meeting with the fans. I didn't attend because I didn't want to pay for a hotel, but apparently one of the team's owners, John Henry, and the general manager (i.e., the guy in charge of trades), Chaim Bloom, started talking about why they Xander was gone, and they were booed so loudly that they couldn't even talk. Red Sox Nation made its displeasure with the way the team's being managed loud and clear. The reaction even made national news.
Apparently, last night's town meeting was the only time where fans have acted this way. Normally, Red Sox fans are deferential to team owners and managers. The ask tough but fair questions at these events. Not this year. The team has no shortstop because Bogaerts is gone. Trevor Story, last year's second baseman, was going to take over that slot, but, oh, LAST WEEK he had to have elbow surgery and probably won't play at all this year. That means we don't have either a shortstop OR a second baseman. The claim they're going to bring Kike Hernandez in from center field to play shortstop. He's a solid infielder, but then, who plays centerfield?
The natives were restless, and rightfully so. I've seen bad management in my six-plus decades as a Red Sox fan (and probably worse teams, I might add, but those teams at least didn't pretend to be good). This one takes the cake. I think management is in for a rude awakening: Red Sox fans are hitting them in the pocketbook, where it will hurt the most. Fenway Park has long been a sold-out venue (it's one of the oldest and smallest ballparks in Major League Baseball) for years. I would be surprised if they have many sellouts this year. Back when I began following the team, they were fortunate some days to ave two to three thousand in a ballpark that holds ten times that many.
Spring training starts soon. Will the fan discontent continue? Time will tell. I'm not too confident that this year will be a good one for my team; I will, however, say that they remain myteam, even though I'm rooting for a certain former shortstop who now plays in San Diego, who speaks five languages and is from Aruba…You West Coast baseball fans know who I mean. Take care of Xander. He deserves it.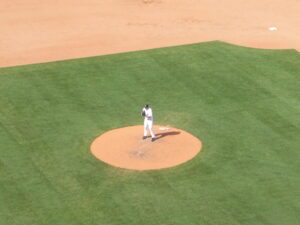 (photo above of Fenway Park taken from the broadcasting booth at Fenway Park in 2012)