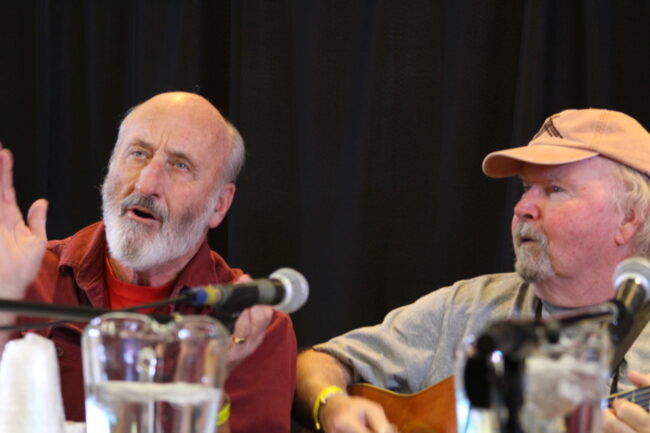 Celebrating an Idol – A Day In The Life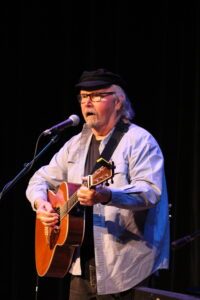 Sunday, January 1, 2023…The Greenwich Village Folk Festival held an all-star–in folk music terms, anyway–85th birthday celebration for Tom Paxton. I listened to the on-line show, co-hosted by two of my folk DJ friends (Ron Olesko and Mike Regienstrief), from 7-10 pm.
The reason I devoted so much time to this is that Tom Paxton is my idol in folk music.
Going back to the early 1960s–1964, to be exact–I saved my babysitting money to buy Tom Paxton's very first record album, "Ramblin' Boy." I was so proud of myself when I walked out of that record store with that album with a black-and-white cover on it and essentially wore it out, learning all the words to his songs.
Never in my wildest dreams back then did I ever think I'd get to meet the great Tom Paxton. But today, almost six decades later, not only have I met him so many times, but I have also worked with him on several projects. I was almost in tears listening to several of my other idols today paying homage to Tom, including Noel Paul Stookey and Peter Yarrow (of Peter, Paul and Mary fame), Tom Chapin, Holly Near, Kathy Mattea, and so many others.
Tom says he's written about 300 songs since the pandemic began in 2020 Listening to people sing his songs and the ones he's co-written with them today only solidifies him as one of my idols in music.
Yes, I spent some time today cleaning, doing laundry, and cooking dinner (I admit that the homemade pizza I made was a bust, but hey, at least I tried something different!). But stopping everything and spending time listening to Tom Paxton's music was one of the best ways I could have invested three hours of the first day of 2023.