A Day in My Life – January 4, 2023 – Kindergarten Edition
/>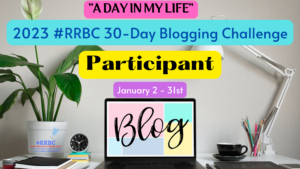 On Wednesdays, I'm an aide with a kindergarten class in a Schenectady City School. In my other volunteer work, I read, one-on-one, with specific students. I've worked with the teacher I was with today for more than six years, although the pandemic quarantine year (2020) stood in the way of what would have been the seventh one. She's an amazing teacher (no one better bad-mouth teachers to me; I'd give them a mouthful of incredible observations I've seen at this school and the other one at which I volunteer). She's now doing "looping," which means this year she had kindergarten this year and will have the same students next year for first grade. It's a philosophy in education that this particular school is trying.
When I work at the other school, I'm with one second grader and one third grader. Kindergarten is a completely different ball game. I go from table to table and just check in on what they're doing. I should make a recording for these kids and, in radio parlance, run it on a continuous loop: "First, you must put your name on your paper before you start to complete the assignment!" That's the first thing. Many of them forget that first step.
Today they had four words at the top of their papers. Let's see if this 74-year-old blogger can remember them:
FROG
DRUM
CRAB
TWIG
The point was to have them look at drawings of those things, identify them, and write the word under the drawings. The kids were identifying the items well enough, but their handwriting (and we're not talking cursive here) is not great. I made the point to them at each table that the beginning of each word two letters joined together to make one sound. That was ASTOUNDING news to them.
The teacher asked me if I was giving them the answers; I was not. I was showing them the ways in which letters work together to form one sound. EUREKA!
The next exercise she did with them was to explain what more and less volume in containers is. She showed them photos of containers and gave them worksheets to match up things inside the containers with photos of the same size. They needed to use their coloring skills to identify the difference.
When I left, they all wanted to hug me. I can hug them; their teachers cannot. What a shame. But it means I can get some great loving from these kids when I'm not near my own grandchildren. One of these kids today was dressed in "full Michael Jordan" mode. I kept calling him "Michael Jordan" and telling him that I had actually watched Michael Jordan play basketball on TV. He was astounded. I asked him if he knew who Scottie Pippin was. "Who?" Ah, showing my age, once again.
After that, I went to play tennis with three of my friends. We had a blast. We split sets. My partner and I won the first set, while our opponents won the second. We did not hug one another after the match. And no one was dressed in full Michael Jordan mode. Maybe next week.
(P.S. You should be able to make comments on this post now. The person who maintains my website says it should work now!)