A Day in My Life – Kindergarten Edition – January 11, 2023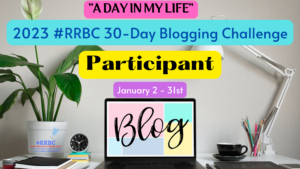 Today I volunteered in a local kindergarten class. This is the teacher with whom I first started volunteering in the reading program seven years ago. She is an amazing teacher. She tells me all the time how much she loves her job. She's doing what they call "looping" now. She has kindergarteners first then has the same group of students the following year as first graders. It's a new trend in education, or so my overly educated (three master's degrees in education) daughter tells me.
Today she discussed the concept of less and more with them. It's great for me to observe them, sitting in a circle, as she explains how to determine which jar has more and which basket has less. She comes up with terrific examples, and they enthusiastically respond, "YES!" or "NO!" She has to be exhausted when she goes home every day!
As for my own communication with them–I find I do better with the second- and third-graders than the kindergarteners. It seems as if I expect them to know more letters, sounds, and numbers than they do. I have to keep reminding myself that they're in kindergarten. They'll all be big ole first-graders next year at this time. I'll even be able to have conversations with them then.
After I left the school, I headed over to the (indoor) tennis court. I played a doubles match for fun with a few of my friends.
I had hoped to hear from my sister today. She's the only sibling I have left, and she moved to Virginia about six months ago. She's been in the area for a week and I have yet to see her. She'll be here until January 17th. I remain hopeful that I will see her before she leaves. She's not too keen on my political leanings, but that goes both ways. She has made contact with our niece since she's been around, just not me.
In the meantime, I'm trying to decide if I should take the train to Kansas City, as I had planned, at the end of the month, for the folk music conference I need to attend, or if I should try to drive. It's a long drive, and I'm concerned about the weather. Given what's been happening with the airlines, I don't want to fly. The incident that happened today with flights getting cancelled make me think I made a good decision to get an Amtrak reservation rather than one on a plane. I'm still waffling, though. I'm going to keep track of the weather and then decide whether or not to keep the train reservation or drive.
Hasta mañana, folks…
Wanda Fischer
Schenectady, New York
January 11, 2023