A Day in My Life – Red Sox Winter Weekend Preview – January 20, 2023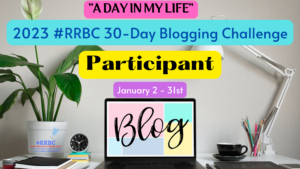 Well, here it is, Friday, and I haven't accomplished much today. I did go to the sporting goods store and purchased baseballs to bring with us tomorrow to the #RedSox Winter Weekend event. My son, grandson, and granddaughter (the only female grandchild we have out of six!) will meet up in Springfield, Massachusetts and will have the chance to have photos with and get autographs from a few members of the current Red Sox team. In the past, we have met some of the top people who have played on this team. Now many of them have either retired or been traded. Some of the retired people, including a couple of Hall of Famers, are supposed to be there tomorrow.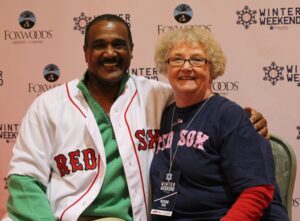 The photo above is Hall of Fame Jim Rice and me at the very first Red Sox Winter Weekend in 2015. I told him that day, "I have always loved you." His reponse? "What? What did you say?" I repeated myself. He grabbed me, put his arms around me, and gave me a huge hug. He and I had a long conversation. The Red Sox people in charge of the event told him to hurry up and move on. He shook his finger at them and sternly said, "Hey! If I want to talk to this woman, I'll talk to her for however long I want to!" We spoke for quite a while and people in the line waiting for him became a little annoyed with me. Too bad, I thought. I waited years for this! I told him that I'd attended his Hall of Fame induction in 2009 in Cooperstown, New York. He seemed impressed. I left that session happy.
That was eight years ago. They haven't had a Winter Weekend since January 2020, just before the pandemic hit. They've moved it to a venue that's only about an hour and a half away from here, so I don't have to get a hotel and stay overnight in order to attend.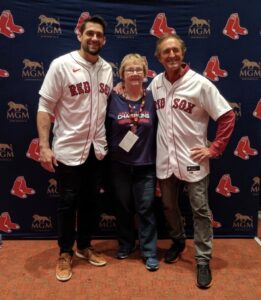 This is a photo from the last one (January 2020), with Nathan Eovaldi on the left and Fred Lynn on the right. Eovaldi recently signed with the Texas Rangers, and Fred Lynn is a retired outfielder for the Red Sox. Lynn SHOULD be in Cooperstown but isn't. I think there are some guys who are in there who shouldn't have been included over Fred Lynn, but that's just my opinion. I admit, I may be biased.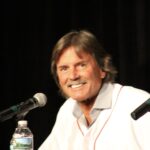 This is Dennis Eckersley, also a member of the Hall of Fame, who just retired as one of the Red Sox broadcasters after last season. He was an incredible broadcaster, and Red Sox Nation will miss him when the 2023 season opens. As a broadcaster myself, I will miss him for the great job he did. He always made up phrases, such as, when someone struck out, he'd say, "He's just a pair of shoes," or he'd call a searing fast ball, "cheese."
Who knows who we'll see tomorrow? I'm hoping for Rafael Devers, the third baseman who's the only one of my favorites left on the team after management let my favorite Xander Bogaerts go to San Diego. Raffy has big, huge cheeks that puff up when he smiles. His nickname in Spanish is "Carita," which apparently means "big chubby cheeks," according to what he told his translator to tell the fans. I want to have my photo taken with him tomorrow. We never know who will be in the room when we arrive at whatever one they assign us to. My fingers are crossed that I'll get to tell Carita, "Te amo, Carita." Maybe he'll give me a hug like Jim Rice did!