A Day in My Life – Catching Up Edition – January 9, 2023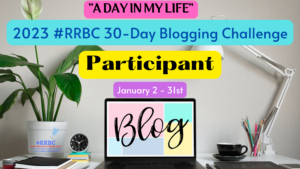 After a crazy day yesterday, in which I:
–sang in the folk group at church
–played in a USTA tennis match
–attended a party at the home of one of my oldest friends
–wrote a blog post
–spent two hours editing
I figured today would be a day to chill (as much as I chill). I backed up my computer, which the little machine reminded me that I hadn't done for 24 days (YIKES!), did a little laundry, a few tidying up chores, and waited for a call from someone from a geothermal company. We are considering installing geothermal heat/airconditioning at our house. There are lots of rebates and tax incentives to do this, and we are anxious to be as energy-efficient as possible. We already have solar power and on-demand hot water heating. My husband has a hybrid plug-in car. We're trying to do out part.
After the guy called and gave us the full story on the geothermal, we think we're going to do it. It's not cheap, but it will save us lots of money in the long run.
In about half an hour, I have a board meeting with a local folk music organization on Zoom. We normally just go over budget issues and other minor details associated with fundraising and upcoming concerts. It shouldn't be too complicated (knock on wood).
My husband and I usually watch Wheel of Fortune and Jeopardy! together. Tonight he'll be watching alone. He always takes copious notes about the final Jeopardy! question for me when I can't watch. He poses the question to me; I rarely get it right.
Wanda Fischer
Schenectady, NY
January 9, 2023