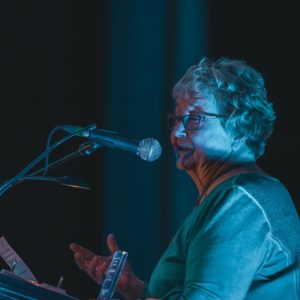 Even for a writer, words cannot express how amazing it was for me on February 13, 2019 when I walked up onto the stage at the Folk Alliance International conference in Montreal, and my friends Mike Regenstreif and Ellen Stanley welcomed me into the Folk DJ Hall of Fame. Mike is already a member (as he should be), and I am humbled to join such incredible people as the person who encouraged me to get into folk radio in the first place, Dick Pleasants, as well as Gene Shay, Rich Warren, Mary Cliff, Fiona Ritchie, and Roz and Howard Larman.
Maybe the best part of last week's ceremony, though, was my longtime friend, DJ, and singer/songwriter Matt Watroba was also inducted. He was part of a recording that I made about 15 years ago (time flies!), as he and Eric Ericson (who was doing folk radio at the time) and I sang Karen Beth's "Late Night Radio" on my CD, "Singing Along with the Radio." At the time, I jokingly referred to the song as "the three DJs." Who knew that Matt and I would both enter the Folk Alliance's DJ Hall of Fame on the same night!
When I was speaking, all I could think of was that there are so many others who should be included with this honor. I keep thinking of those whom Folk Alliance International will consider in the future, and I know they'll be coming soon to the Cooperstown of folk music!
Thanks to all who made this possible. There simply are no words.
(Thanks to Ethan Scott Baird, my "second son," for this photo. He rocks!)