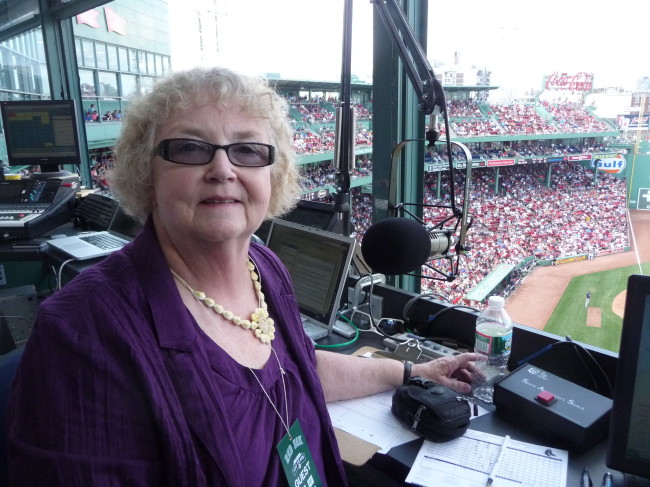 PA Blog interview with Wanda Fischer, recent "Guest In The Chair" at Fenway Park
Recently I had a chance to sit down with Wanda Fischer-singer, songwriter, and host of a long running radio program called The Hudson River Sampler (WAMC-FM, Northeast Public Radio, Albany, NY). She was invited by the Boston Red Sox to PA announce a recent game between the Twins and Sox.
Kevin:  Welcome, let me ask first, as a life long Red Sox fan what did you feel when you got to Fenway?
Wanda:  I felt as if I were home.
Kevin:  When you walked into the PA booth to do your game and looked out at the field and into the
stands what was going through your mind?
Wanda:  I looked at Fenway and remembered so many games I had seen there over the years.  I thought about the changes–the additions to the park, the electronic scoreboards, the Monster seats, so many things that had changed.  This is the 100th anniversary of Fenway Park.  And yet, there is still a hand-changed scoreboard in left field, within the Green Monster.  The view from the booth is really a baseball fan's heaven.  You can see everything very clearly, including the balls and strikes.  Last year, I had spent four innings with the now-deceased Carl Beane, after having bid on a prize and made a donation to the Mass Mentoring program (they have a relationship with the Red Sox and do a lot with the players and school children in Boston, and my daughter is a teacher in the Boston public school system), so this was not my first time to have seen this view.
Kevin:  Tell us about the process you went through that led up to you getting called back by the Red Sox?
Wanda:  In 2007, the Red Sox had a contest for a fan to become president of Red Sox Nation.  I was one of 25 finalists for that out of more than 1,300 applicants.  I did not make the next cut down to 10, but I had a blast "running" for the office.  I was watching a Red Sox game in early June and heard Jerry Remy and Don Orsillo talk about the "guest in the chair" program that the Red Sox were running to find a replacement after Carl Beane tragically died last May.  I thought, "How can I do that?"  So I contacted (via e-mail) the people who were in charge of the president of Red Sox Nation contest and asked about it.  They replied that I would be put on the list.  A couple of days later, I got a phone message, saying that someone would contact me after the season was over, because they had many applicants who were interested in doing the "guest in the chair."  I decided to follow up by sending another e-mail that explained my background–35 years in broadcasting, professional singing, MC'ing major folk music and other musical events, etc.  One of the important things is that my radio station, although based in Albany, NY, broadcasts to many parts of Red Sox Nation–western Massachusetts to Sturbridge, all of Vermont, southern New Hampshire, and northern Connecticut.  I was at a doctor's appointment when they called me back and said that they had checked me out, and that they discovered that everything I had told them was legitimate, and that they were interested in giving me a chance.  We checked calendars (my daughter's wedding was coming up, so I had to wait for a few weeks) and came up with August 5.  I had already purchased tickets for that game, so I had planned to go to Boston for that day anyway.
Kevin:  Were you able to speak to any of the Boston players or management before the game?
Wanda:  No, I was too busy working with the producer and sound engineer, and familiarizing myself with the script.  I didn't have an opportunity to meet players after the game, either, and I think it was because the Red Sox Foundation was having their annual "Picnic in the Park" fundraiser right after the game, so they were really busy getting everything together.
Kevin:  How much prep did you do before the game once you got to Fenway? And, what was your pre-
game meeting like with the game ops people at the stadium?
Wanda:  The preliminary script was waiting for me when I arrived at the park, and I went over it when I got there.  When the sound engineer arrived, he and I went over some basics.  He explained about monitors and the possibility of feedback.  The producer and I went over the pronunciation of the names of community people who would be involved in the ceremonial activities.  The script did change prior to game time, and we went over it again.  I wrote the line-ups out in longhand–BIG LETTERS!  These guys were incredible.  I loved working with them.
Kevin:  Let's talk for a minute about your long running radio show The Hudson River Sampler (WAMC-FM, Northeast Public Radio, Albany, NY).  How many years has it been on and what's it like, do you enjoy sharing your historical knowledge during your broadcasts?  Your association with Folk Music and the related genres has to be a major portion of your professional career, what motivates you to keep on pushing week after week?
Wanda:  My show debuted on WAMC on September 18, 1982, so it's been almost 30 years.  I did a similar show for four years on WCUW in Worcester, Mass., before moving to Albany.  I have been singing in public since I was four years old.  My late father is the one who introduced me to this music, and I love the music.  I also love the relationships I have built up with the listeners over the years.  There are a number of people who call me who tell me that they listened to my show when they were kids and are now grown-ups and they still listen to my show.  Some of them listen on-line because they have moved out of the area and can't listen on the radio any more.  I get calls and e-mails from as far away as Bermuda, Europe, and even Japan, as well as all corners of the United States, and that's one of the reasons that keeps me pushing week after week.  I don't like to pre-tape my shows because I like to be at the station so that I can actually interact with listeners.  And the other thing is, the music I play has to be related somehow, either lyrically or musically.  I try to weave it all together so that it makes sense somehow.  It's definitely old-school radio.
Kevin: Getting back to your PA Announcer experience, did you come across any 'hard to pronounce' player names?
Wanda:  No.  I had rehearsed all the names on the Twins roster.  I had watched a couple of their games on MLB TV, so I was all set.  There is a Japanese player on their 40-man roster whose name I had trouble with.  Fortunately for me, he wasn't up on the 25-man roster that day.
Kevin:  How comfortable was your interaction with the game ops crew at Fenway and how many in game ad reads to you have to make to the crowd in attendance?
Wanda: They were wonderful.  I only had to read a few in-game ad reads, and they were mostly at the beginning of the game.  I would estimate perhaps half a dozen.  One was for Dunkin' Donuts iced coffee (the official iced coffee of the Boston Red Sox), another for 99 Restaurant (sponsored the code of conduct).
Kevin: This might sound like a weird question but I know this was always a concern of mine when I did a game, How did you handle your rest room break(s). I know I would have been petrified to leave my seat and worry about not getting back in time for the lead off hitter?
Wanda:  I just didn't drink anything!   I was concerned about that, believe me!
Kevin: What emotions or feelings did you take with you from this experience, especially as a life long
Red Sox fan?
Wanda:  I was upset with myself because I made one big mistake (introduced the wrong Minnesota batter and had to say, "Correction…" and introduce the right one).  Beyond that, I was thrilled beyond words that I had this opportunity, especially since I had the chance to meet Carl Beane last year and I considered this to be not only a once-in-a-lifetime opportunity for myself, but also a way to pay tribute to Carl.  I have wanted to sing the National Anthem at Fenway for years, and I think that this was far better than singing could ever be.  I also thought about the fact that when I started coming to Fenway when I was somewhere around 15 years old, I would never, in my wildest dreams, have thought that I would have been in the PA booth.
Some of my baseball idols–some of whom have not even been members of the Red Sox–have been encouraging to me over the years.  Harmon Killebrew, Kirby Puckett, Tony Conigliaro, Bill Monbouquette, Dick Radatz, Satchel Paige, Curt Gowdy have all given me advice through their actions on and off the field.  I keep pictures of them with me.  I had Carl Beane's picture with me on August 5th.  When I met him last year, he let me try on his 2004 World Series ring, and it fit me perfectly.  "Carl," I said, "you'd better take this back right away."  "Oh, you can keep it for a while," he said.  "No, it fits me perfectly," I replied, "so you'd better take it before I walk off with it on my hand."
When I left Fenway on August 5, I thought so much about Carl and the baseball history that I have experienced in the almost 56 years I have been devoted to this team.  I have seen so many lows and felt so many highs from the Red Sox–my Boston Red Sox–and as part of Red Sox Nation that having announced this game made me feel as if I was even more a part of the team that I love.
Kevin:  Finally, What would you do if the Red Sox offered this position to you on a full time permanent basis?
Wanda:  I don't know for sure, but I can say that I would give it very serious consideration!